Feature and Follow is hosted by
Parajunkee
&
Alison Can Read
every Friday. Complete Rules and Instructions are here:
Rules and Instructions
Question: What Blogger inspires you? It can be any kind, it doesn't have to be a book blog.
I want to say that each and every blogger that's been doing it for a year or more inspires me. The ones who've been doing it for 2 years or more, make my jaw drop in awe. Why? I've been doing it for less than 3 months, and I've already had to take a hiatus. Life stuff. It happens. But also, I'm just amazed at their longevity because none of us are professionals. And yet, to blog almost daily whether or not you feel like writing, feel inspired to write, etc. is amazing. So, to all of you bloggers that have been doing it for a long time: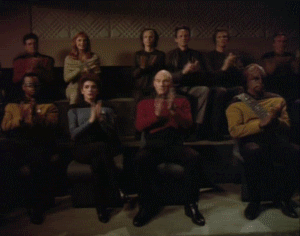 Also, if you can spare the time...Give the rest of us- especially me- some advice in the comments below. Maybe something that keeps you going on days you just don't feel like it. Tips to balance work, family, reading, and blogging. Or anything you wish you had been told as a new blogger. Please, please, please, tell me one of your secrets in the comments section. Something for new bloggers (like me) to help us make it a year or more. Thanks!