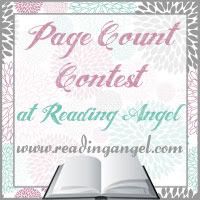 The Reading Angel hosts a monthly reading challenge that sounds like the perfect thing to motivate me to get through some of my books. The challenge is to see who can read the most pages in a month. Click here for the complete rules and Linky sign-up:
Reading Angel's Page Count Challenge
Sounds like a lot of fun. Plus, for extra motivation, there are prizes involved. A few for winners, but some are random drawings as long as you make it to the Top 20 list of readers.
I read so many books at once, so I have to go through and make note of where I am as of today. But for now, this is a book I started reading today:
I just got this book from NetGalley. I'm so amazed that I'm actually getting books from NetGalley.
Off the top of your head, does anyone know how many pages they read a month? I'm curious to see how much my reading has dropped off since I started blogging.